Hope Shines Bright for Hidradenitis Suppurativa Treatments
Additional hidradenitis suppurativa (HS) treatments could be on the horizon with the news that both secukinumab and the investigational drug brepocitinib reduced the effects of the chronic and painful skin condition in separate trials.
Around 40%-50% of patients exhibited a clinical response to these agents at 16 weeks, a leading HS expert reported at the the 31st Congress of the European Academy of Dermatology and Venereology (EADV).
HS's Time in the Spotlight
Research into HS is "an incredibly active field at this moment," said Alexa B. Kimball, MD, MPH, professor of dermatology, Harvard University, and president and chief executive officer of Harvard Medical Faculty Physicians at the Beth Israel Deaconess Medical Center, Boston.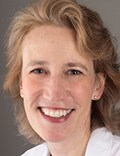 Alexa B. Kimball, MD, MPH
It's "been great for advancing our understanding of the biology and the treatments that we will be able to use," she said.
During the late-breaking sessions at the annual EADV Congress, Kimball presented data from two trials — SUNSHINE and SUNRISE — that investigated the efficacy, safety and tolerability of the interleukin (IL) 17A inhibitor secukinumab (Cosentyx) vs placebo in the treatment of moderate to severe HS.
"This is only the second phase 3 program we have ever seen in HS and the first one since 2016," Kimball said of the trials. It's also the largest trial program in HS conducted to date, she added, "so it really is a milestone."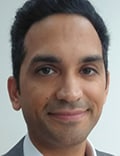 Neil Patel, PhD, MRCP
The last big development was when adalimumab, a tumor necrosis factor (TNF) blocker, gained regulatory approval for HS in 2016, observed Neil Patel, PhD, MRCP, who leads the HS service at Imperial College Healthcare NHS Trust In London, United Kingdom.
"Adalimumab has been very helpful for many patients, but not all patients respond, and others may respond initially but then the treatment starts to fail after a year or 2," Patel said in an interview with Medscape Dermatology.
Patel, who was not involved in either of the studies, added: "There is definitely a huge need for alternative medication for this condition, which still has a lack of effective treatment options."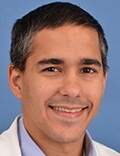 Christopher Sayed, MD
"One major upside for secukinumab is that its safety profile is generally very good and familiarity in the dermatologic community is already well-established," Christopher Sayed, MD, said in a separate interview.
"This will make most providers very comfortable offering it as a potential treatment option sooner rather than later given that its efficacy has now been demonstrated in phase 3 trials," added Sayed, associate professor of dermatology at the University of North Carolina, Chapel Hill.
Two Identically Designed Trials
Altogether, SUNSHINE and SUNRISE enrolled just over 1000 patients at 219 sites in 33 countries. Both trials were identical in their design: a 4-week run in-phase before a randomized, double-blind treatment phase that tested two dosing regimens of secukinumab (300 mg administered subcutaneously) every 2 or 4 weeks vs placebo for 16 weeks. The trial continued after this time, with patients in the placebo arm re–randomly assigned to treatment with one of the two secukinumab regimens out to a year.
The primary endpoint was the percentage of patients achieving a Hidradenitis Suppurativa Clinical Response (HiSCR) after 16 weeks of treatment, with key secondary endpoints, which were abscess and inflammatory nodule (AN) count, occurrence of flares, and at least a 30% reduction in Patient's Global Assessment of Skin Pain assessed using a numeric rating scale (NPRS30).
Secukinumab Superior to Placebo
The HiSCR is defined as at least a 50% decrease in AN count with no increase in the number of abscesses or in the number of draining fistulas relative to baseline. This was achieved by about 42%-45% of patients who received secukinumab every 2 weeks, about 42%-46% of those who received secukinumab every 4 weeks, and about 31%-33% on placebo in both studies.
Of note, fewer patients treated with secukinumab (about 15%-20% across the two studies) than those on placebo (27%-29%) experienced flares, defined as at least a 25% increase in AN count and at least a two point increase relative to baseline values.
Improvement in HS-pain can be a difficult parameter to meet, Kimball noted. "Pain is such an important feature of this disease as it so debilitating for the patients." More than one third (almost 36%-39%) of patients given secukinumab vs just over a quarter (26.9%) given placebo achieved at least a 30% reduction in NPRS30 ratings, she reported. The difference between active and placebo treatment was significant only when secukinumab was given every 2 weeks, however.
"The placebo rates that we see in these studies are exactly parallel to what we saw in other studies, and other disease states when we had a 50% bar of improvement," Kimball said when questioned about these results.
"HS is a highly variable disease it's maybe not so much the placebo rate or the scoring system used but maybe the 50% bar set for improvement is too low. It's likely, as data start to mature and a 75% HiSCR can be calculated, that the placebo rates will drop," she commented.
Being an old player in a new game, there were no surprises when it came to the safety of secukinumab, she noted. It was "well tolerated" and tolerability was "consistent with the known safety profile," Kimball said, "so we expect it to be a new, safe and effective add to our armamentarium in treating this disease."
This research involves "basically borrowing drugs from other areas and trying them in HS to see what effect they may have," Patel said, noting that drugs like adalimumab and secukinumab already had a proven track record in other diseases, such as psoriasis. "These early data for secukinumab definitely are very exciting, but we would need to see real life results" in patients with HS who are not enrolled in trials to see the benefits, he added.
"One major upside for secukinumab is that its safety profile is generally very good and familiarity in the dermatologic community is already well-established," Sayed said. "This will make most providers very comfortable offering it as a potential treatment option sooner rather than later given that its efficacy has now been demonstrated in phase 3 trials."
'Tipping Point' for HS Research
"I think we will look back on this meeting and realize that it was an incredibly important tipping point for the treatment of this incredibly debilitating disease," Kimball said.
Elsewhere at the meeting, she had presented findings from a phase 2a study that pitted three different kinase inhibitors with different modes of action against each other and compared them with placebo.
The three agents evaluated are an IL-1 receptor–associated kinase 4 inhibitor known as PF-06650833, a tyrosine kinase 2 (TYK2) JAK1 inhibitor brepocitinib, and the TYK2 inhibitor PF-06826647.
"This technique has been used in oncology," Kimball said, noting that the ability to test multiple drugs at the same time "means we can really much more efficiently test two different things at the same time, and also put fewer patients at risk for potential problems if drugs don't work."
Positive Signs for Brepocitinib, Not the Other Kinases Tested
The results showed that though brepocitinib worked in HS, the other two novel compounds did not appear to have beneficial effects. Just over half (52%) of the 52 patients treated with brepocitinib achieved an HiSCR at 16 weeks compared with around one third of those given placebo, PF-06650833, or PF-06826647.
A similar benefit was seen in terms of reduction in flares for brepocitinib but not the other agents, although there was no difference between them all in terms of NPRS30 pain reduction.
"We've been able to test three different modalities. This tells us some things about the pathophysiology for HS, which is a very profoundly intensive inflammatory process," which, Kimball said, "may require multiple modalities of action to get it under control." In addition, these "general modalities seem to safe and well tolerated," she added.
Take-homes for Practice and Future Research
"While it is disappointing that two of the drugs tested did not clearly demonstrate efficacy, it very possible that these mechanisms of action may be successful targets in the future as new dosing strategies and drugs targeting these pathways are developed," Sayed said.
A case in point, he added, was that "adalimumab did not meet treatment endpoints at a dose of 40 mg every other week, but clearly has made a major impact at 40 mg weekly."
The bottom line is that "both secukinumab and beprocitinib demonstrated efficacy over placebo and are likely to be helpful for a significant number of patients with HS," Sayed said. "Hopefully, we'll see head-to-head trials and more data regarding proportions of patients with deeper responses using criteria such as HiSCR75 and HiSCR90."
Moreover, "having a larger number of drugs with a range of mechanisms of action is extraordinarily helpful given how difficult the disease can be to manage. We will hopefully continue to see creative approaches and further successes in the current wave of phase 1, 2, and 3 trials that are already underway."
The SUNSHINE and SUNRISE studies were funded by Novartis Pharma AG, Basel, Switzerland. The Phase 2A study Kimball presented was sponsored by Pfizer.
Kimball disclosed ties to both Novartis and Pfizer and acts as a consultant and investigator to AbbVie, Bristol-Myers Squibb, Janssen, Eli Lilly, Novartis, and UCB as well. She is also an investigator for Incyte and AnaptysBio; acts as a consultant to Bayer, Boehringer Ingelheim, Ventyz, Moonlake, Lily, Concert, EvoImmune, Sonoma Bio, and Sanofi; receives fellowship funding from Janssen, and serves on the Board of Directors for Almirall.
Patel had no conflicts of interest to disclose. Sayed is the director of the HS Foundation, a nonprofit organization, and has acted as an advisor or consultant to, speaker for, and received research funding from multiple drug companies including AbbVie, ChemoCentryx, Incyte, InflaRx, Novartis, and UCB.
European Academy of Dermatology and Venereology (EADV) 2022 Annual Meeting. Presented September 10, 2022. LB-3549; LB-3497.
Sara Freeman is a freelance journalist based in London, England.
Follow Medscape on Facebook, Twitter, Instagram, and YouTube
Source: Read Full Article