Vaginal Cleansing Seen Ineffective for Unscheduled Cesareans
Vaginal cleansing showed no reduction in morbidity when performed before unscheduled cesarean deliveries, researchers reported at the 2022 Pregnancy Meeting of the Society for Maternal-Fetal Medicine.
Several studies have evaluated vaginal cleansing prior to cesarean delivery, with mixed results. The American College of Obstetricians and Gynecologists recommends clinicians consider cleansing prior to unscheduled cesareans, but that advice appears not to be widely heeded.
The new findings, from what the researchers called the single largest study of vaginal cleansing prior to cesarean delivery in the United States, showed no difference in post-cesarean infections when the vagina was cleansed with povidone-iodine prior to unscheduled cesarean delivery.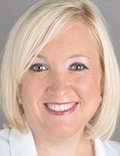 Dr Lorene Atkins Temming
"These findings do not support routine vaginal cleansing prior to unscheduled cesarean deliveries," lead author Lorene Atkins Temming, MD, medical director of labor and delivery at Atrium Health Wake Forest School of Medicine, Charlotte, North Carolina, told Medscape Medical News. The research was conducted at and sponsored by Washington University School of Medicine in St. Louis, where Temming did her fellowship.
Temming's group compared vaginal cleansing with povidone-iodine in addition to routine abdominal cleansing to abdominal cleansing alone. Among the primary outcomes of the study was the effect of cleansing on post-cesarean infectious morbidity.
"There is a higher risk of infectious complications after cesarean delivery than other gynecologic surgeries," Temming told Medscape Medical News. "While the reason for this isn't entirely clear, it is thought to be because cesareans are often performed after a patient's cervix is dilated. This dilation can allow normal bacteria that live in the vagina to ascend into the uterus and can increase the risk of infections."
Patients undergoing cesarean delivery after labor were randomly assigned to undergo preoperative abdominal cleansing only (n = 304) or preoperative abdominal cleansing plus vaginal cleansing with povidone-iodine (n = 304). Women were included in the analysis if they underwent cesareans after regular contractions and any cervical dilation, if their membranes ruptured, or they had the procedure performed when they were more than 4 cm dilated.
The primary outcome was composite infectious morbidity, a catchall that included surgical-site infection, maternal fever, endometritis, and wound complications within 30 days after cesarean delivery. The secondary outcomes were hospital readmission, visits to the emergency department, and treatment for neonatal sepsis.
The researchers observed no significant difference in the primary composite outcome between the two groups (11.7% vs. 11.7%, P = .98; 95% CI, 0.6 – 1.5). "Vaginal cleansing appears to be unnecessary when preoperative antibiotics and skin antisepsis are performed," Temming said.
Jennifer L. Lew, MD, an ob/gyn at Northwestern Medicine Kishwaukee Hospital in Dekalb, Illinois, said current practice regarding preparation for unscheduled cesarean surgery includes chlorhexidine on the abdomen and povidone-iodine for introducing a Foley catheter into the urethra.
"Many patients may already have a catheter in place due to labor and epidural, so they would not need" vaginal prep, Lew said. "Currently, the standard does not require doing a vaginal prep for any cesarean sections, those in labor or not."
The researchers have disclosed no relevant financial relationships.
Society for Maternal-Fetal Medicine 2022 Pregnancy Meeting: Oral Presentation 23. Presented February 3, 2022. Abstract
Howard Wolinsky is a medical writer in Chicago.
For more news, follow Medscape on Facebook, Twitter, Instagram, YouTube, and LinkedIn
Source: Read Full Article