Many Youths Believe Gun Control Would Decrease Mass Shootings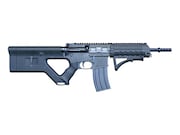 MONDAY, Aug. 6, 2018 — Most youths in a recent survey support the right to own guns, but the majority believe that gun control laws would reduce mass shootings, according to a research letter published online July 30 in JAMA Pediatrics.
Murphy Van Sparrentak, M.S.W., from the University of Michigan School of Public Health in Ann Arbor, and colleagues surveyed 1,153 participants from the National MyVoice Text Message Cohort. MyVoice is not a nationally representative sample, but participants are recruited based on American Community Survey benchmarks to ensure a meaningful and diverse sample. The researchers aimed to assess youth opinions on guns and gun control. They asked open-ended questions and identified themes from the responses.
The researchers found that among the 772 respondents, 34 percent were "against" guns in the home, with the remaining 66 percent either "pro" or "conditionally pro" guns in the home, meaning that gun ownership is acceptable under certain conditions (e.g., when there is proper storage for the gun or when it is kept away from children). The majority of respondents (62 percent) believed that gun control laws could decrease mass shootings, but 33 percent said gun control laws would not be enough to affect mass shootings. Concerns were raised about gun access for individuals with mental illness, criminal records, and histories of violence.
"Our findings revealed that the nuances of gun control in the United States are not lost on youth," the authors write.
Abstract/Full Text (subscription or payment may be required)
Posted: August 2018
Source: Read Full Article