Doctors Remove Contact Lens Embedded in Eyelid for Years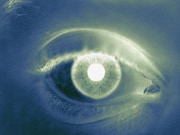 THURSDAY, Aug. 16, 2018 — Doctors recently removed a contact lens that was embedded in a woman's eyelid for nearly three decades after she was hit in the eye while playing badminton. The case was highlighted in the Aug. 10 online edition of BMJ Case Reports.
The woman was 14 at the time and thought she had lost the contact lens. At age 42, she visited an ophthalmologist because her left eyelid had been swollen and drooping for about six months.
Doctors determined that the patient had a cyst. When they removed it, the cyst broke open and revealed a rigid gas permeable contact lens. The woman couldn't recall how the contact lens got there or how long it was there, but her mother remembered that she had been hit in the eye with a shuttlecock during a game of badminton 28 years ago.
It's not clear why the contact lens only started to cause problems nearly three decades later, the doctors wrote.
Abstract/Full Text (subscription or payment may be required)
Posted: August 2018
Source: Read Full Article