This Mom's Photo Shows The Exact Moment Her Child's Leg Broke On A Slide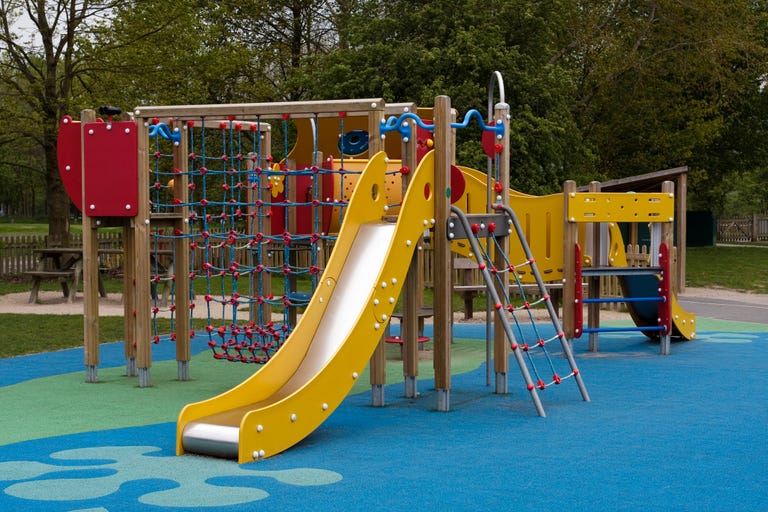 It's a common sight at playgrounds: A parent or other adult going down the slide with a kid in their lap. Now, one mom is warning that this is a really bad idea—and she has photographic evidence to prove it.
Heather Clare, a mother of three from New York, recently posted a photo on Facebook of herself going down the slide with her then 12-month-old daughter, Meadow, on her lap. It looks like standard playground stuff until you look closely and see that Meadow's foot is literally turned backward.
"I went down the slide with her on my lap and her foot got caught between me and the slide. This picture is the moment her leg was breaking," Heather wrote. "She's still smiling… because it was happening at this exact moment."
Heather later told Today that Meadow's tibia and fibia snapped in the accident; she ended up being in a cast for four weeks but made a full recovery.
Heather says that when she took Meadow to the ER, the doctor lectured her on how common this injury is—there's even research to back up just how often this happens.
According to a 2017 study presented at the American Academy of Pediatrics National Conference & Exhibition, an estimated 352,698 children under the age of 6 were injured on slides in the U.S. between 2002 and 2015—and many of those injuries were leg fractures. (It tends to happen when a child's foot catches on the edge or bottom of the slide and twists backwards, as seen in Heather's photo.)
"In most cases I have seen, the parents had no idea that…could possibly give their child such a significant injury," wrote Charles Jennissen, M.D., a pediatric emergency physician and lead researcher on the study. "They often say they never would have done it had they known."
Heather shares those sentiments: "I had no idea. I thought everyone took their kids down the slide," she wrote. "I strongly feel every playground should have a warning sign, but since I've never seen one (and we go to A LOT of playgrounds), I share this picture every year in hopes that the pain Meadow felt and the guilt that I still feel will save other babies and parents from the same."
It should be noted that, while Meadow's injury happened in 2015, Heather still shares the post every year to help educate other parents who may not know of the dangers of sliding with children.
The bottom line: "Don't ever go down a slide with a baby on your lap," Heather wrote. "There is no safe way to go down a slide with your little."
Source: Read Full Article