Blood Test in Early Pregnancy May Predict Mom's Diabetes Risk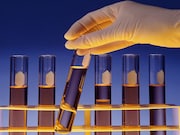 THURSDAY, Aug. 16, 2018 — A blood test seems to detect signs of gestational diabetes as early as the 10th week of pregnancy, a new U.S. government study says.
Gestational diabetes occurs only in pregnancy and can pose a serious health threat to mothers and babies.
It increases the mother's risk of pregnancy-related high blood pressure disorders, cesarean delivery, as well as heart disease and type 2 diabetes later on. It also increases an infant's risk for large birth size, the study authors explained.
Unless women are obese or have other known risk factors, they're typically screened for gestational diabetes between 24 and 28 weeks of pregnancy.
In this study, researchers from the U.S. National Institute of Child Health and Human Development (NICHD) examined whether a test commonly used to diagnose type 2 diabetes — the HbA1c, or A1c test — could detect signs of gestational diabetes in the first trimester of pregnancy.
The test, which determines average blood sugar levels over the previous two or three months, is not now recommended to diagnose gestational diabetes.
The researchers compared HbA1c test results from 107 women who later developed gestational diabetes with results from 214 women who did not. Most of the women were tested four times during pregnancy: early (weeks 8-13); middle (weeks 16-22 and 24-29); and late (weeks 34-37).
Women who developed gestational diabetes had higher HbA1c levels in early pregnancy (an average measure of 5.3 percent), compared to others (an average of 5.1 percent). Each 0.1 percentage point increase in HbA1c above 5.1 percent in early pregnancy was associated with a 22 percent higher risk of gestational diabetes, the study authors said.
In middle pregnancy, HbA1c levels fell in both groups, but rose in the final third of pregnancy. This is consistent with the decrease in sensitivity to insulin that often occurs in the third trimester, according to the authors.
"Our results suggest that the HbA1c test potentially could help identify women at risk for gestational diabetes early in pregnancy, when lifestyle changes may be more effective in reducing their risk," senior author Dr. Cuilin Zhang said in a NICHD news release. She is an epidemiologist and senior investigator at the institute.
More research is needed to confirm whether measuring HbA1c levels in early pregnancy can determine a woman's gestational diabetes risk and to learn if lifestyle changes before or early in pregnancy could reduce it.
Lifestyle changes include exercise and a healthy diet. If those changes have no effect, doctors may prescribe insulin to bring blood sugar under control.
The study was published recently in the journal Scientific Reports.
More information
The U.S. National Institute of Diabetes and Digestive and Kidney Diseases has more on gestational diabetes.
Posted: August 2018
Source: Read Full Article