Scientists Rid Mice of Wrinkles, Hair Loss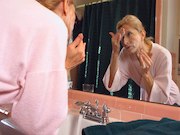 MONDAY, July 23, 2018 — It's only worked in mice so far, but scientists report a finding that might pave a path to erase the signs of aging in humans.
In the new study, the researchers focused on the function of mitochondria, the powerhouses of cells. They produce 90 percent of the chemical energy that cells need to survive, according to the study.
When the study team triggered a mutation that causes mitochondrial dysfunction, the mice quickly developed wrinkled skin and fur loss.
In just four weeks, the mice showed gray hair, reduced hair density, slowed movements and lethargy — changes that are all hallmarks of aging. Wrinkled skin was seen four to eight weeks after the mutation was introduced, and females had more severe wrinkles than males.
But when mitochondrial function was restored by turning off the mutation, the mice regained smooth skin and thick fur that was indistinguishable from healthy mice of the same age.
"To our knowledge, this observation is unprecedented," said study author Keshav Singh, a professor of genetics at the University of Alabama at Birmingham.
Research in animals often doesn't produce the same results in humans. But the study authors believe this finding opens the door to further investigation.
"This mouse model should provide an unprecedented opportunity for the development of preventive and therapeutic drug development strategies to augment the mitochondrial functions for the treatment of aging-associated skin and hair pathology and other human diseases in which mitochondrial dysfunction plays a significant role," Singh said in a university news release.
The study was published July 20 in the journal Cell Death and Disease.
More information
The U.S. Office of Disease Prevention and Health Promotions outlines how to protect your health as you age.
Posted: July 2018
Source: Read Full Article