Unhealthy Food Behaviors May Signal Eating Disorder in Teen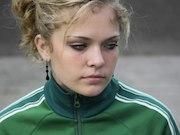 WEDNESDAY, July 11, 2018 — Almost 3 percent of teenagers aged 13 to 18 years have food, weight, and body image issues severe enough to constitute an eating disorder, according to a behavioral health resource posted by The Family Institute at Northwestern University.
Early detection offers a treatment advantage, as with all medical and behavioral conditions. However, this can be difficult, as up to 50 percent of teenage girls and 30 percent of teenage boys exhibit unhealthy food behaviors, including skipping meals, fasting, smoking cigarettes, vomiting, and using laxatives to control their weight.
Signs to look out for include restricting more and more food groups; significant weight change, especially rapid weight loss; repeated extended periods spent in the bathroom, especially with the water running; excessive exercise; and repeatedly avoiding activities involving food.
"Coupled with some of the aforementioned indicators, reduced energy, isolation, irritability, and social withdrawal can accompany an eating disorder," according to The Family Institute.
More Information
Posted: July 2018
Source: Read Full Article