Nitrogen Dioxide Doesn't Impact Benefit of Exercise on MI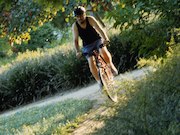 TUESDAY, July 24, 2018 — Nitrogen dioxide does not affect the benefits of physical activity on the incidence or recurrence of myocardial infarction (MI), according to a study published online July 18 in the Journal of the American Heart Association.
Nadine J. Kubesch, Ph.D., M.P.H., from the University of Copenhagen in Denmark, and colleagues linked physical activity with registry data on hospital contacts and out-of-hospital death caused by MI among 57,053 adults aged 50 to 65 years of age. The authors estimated nitrogen dioxide levels at participants' baseline residences. The correlation between participation in sports, cycling, walking, and gardening with incident and recurrent MI was examined, and tested for interaction by nitrogen dioxide.
The researchers found that 2,936 of the 50,635 participants without MI at baseline developed incident MI; 324 of the 1,233 participants with MI before baseline had recurring MI during follow-up. There was an inverse significant association between participation in sports, cycling, and gardening with incident MI (hazard ratios, 0.85, 0.91, and 0.87, respectively), while the correlation with walking was not significant. There was a statistically non-significant inverse association for recurrent MI with cycling, walking, and gardening, and a positive, non-significant association with sports. None of the correlations between physical activity and MI were modified by nitrogen dioxide.
"Benefits of physical activity on both the incidence and the recurrence of MI are not reduced by exposure to high levels of air pollution," the authors write.
The study was funded by the Novo Nordisk Foundation.
Abstract/Full Text
Posted: July 2018
Source: Read Full Article