Too Many Kidney Disease Patients in the Dark About Diet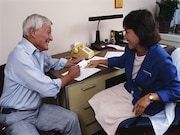 WEDNESDAY, Aug. 1, 2018 — The right diet can slow chronic kidney disease, but 90 percent of patients who do not require dialysis never see a dietitian, new research finds.
"Most adults with chronic kidney disease remain poorly informed of how diet influences disease management and progression," explained study author Dr. Holly Kramer, from Loyola University in Chicago.
The National Kidney Foundation and the Academy of Nutrition and Dietetics recommend "medical nutrition therapy" for all kidney disease patients, regardless of their disease stage.
This type of therapy includes individualized diet assessment, care planning and dietary education by a registered dietitian nutritionist.
By improving blood sugar control and blood pressure, medical nutrition therapy can slow kidney disease progression. That can delay or prevent kidney failure and the need for dialysis or a kidney transplant, the study authors said.
Many patients receive dietary counseling from doctors or nurses, but it's often brief and typically offers only general recommendations, such as reducing salt or protein intake, the findings showed.
The study authors suggested several reasons why so few kidney disease patients received medical nutrition therapy. Some doctors don't refer patients because they mistakenly believe the therapy isn't covered. Some doctors may not understand the significant role diet plays in kidney disease, and some doubt that the therapy will be effective.
The researchers also noted that a limited number of registered dietitian nutritionists are trained in kidney disease management, and many are not enrolled as Medicare providers.
"The high burden, cost and growth of chronic kidney disease requires urgent action, and medical nutrition therapy services must be part of any broad plan to reduce [kidney failure] incidence and improve public health," the study authors concluded.
About 15 percent of American adults (30 million people) have chronic kidney disease, and the rate is expected to rise in the next 20 years due to the obesity epidemic and aging population. Nearly half of American adults aged 65 and older are expected to develop kidney disease.
Medicare spends $33 billion a year on dialysis patients, and more is spent on non-dialysis kidney disease than on stroke or cancer, the researchers noted.
The study was published Aug. 1 in the Journal of the Academy of Nutrition and Dietetics.
More information
The National Kidney Foundation has more on chronic kidney disease.
Posted: August 2018
Source: Read Full Article