Anti-seizure Meds Won't Ease Low Back Pain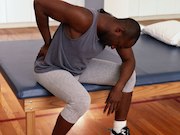 FRIDAY, July 6, 2018 — Doctors and pain specialists have been turning to anticonvulsive drugs for treatment of lower back pain more often over the past decade.
There's just one problem — these drugs don't really help.
A series of clinical trials have shown that anticonvulsants are no good at easing either lower back pain or nerve pain shooting down a leg due to back problems, a new evidence review has concluded.
"They are not effective for low back pain and radiating leg pain, and they are associated with increased risk of side effects," said senior researcher Christine Lin. She's an associate professor with the University of Sydney School of Public Health, in Australia.
Physicians mindful of the opioid crisis have been desperately searching for new painkillers that could either replace narcotics like OxyContin or reduce the need for them, said Dr. Charla Fischer, a spine surgeon with NYU Langone Health in New York City.
"There's a huge push to find treatments for back pain other than narcotics, and even other than anti-inflammatories because there's always the risk of side effects, like ulcers," Fischer said.
Much interest has focused on drugs normally used to curb epileptic seizures, Fischer noted. These anticonvulsants have been shown to ease nerve pain in diabetics, so doctors thought they might also be useful in treating back pain.
As a result, anticonvulsant prescriptions aimed at treating back and neck pain have skyrocketed in the United States, Lin said.
The drug gabapentin (Neurontin) was the 10th most commonly prescribed medication in the United States in 2016, she noted. About 64 million prescriptions were dispensed, up from 39 million in 2012.
Meanwhile, Lyrica (pregabalin) ranked eighth in invoice drug spending in 2016, with sales of $4.4 billion — more than double 2012 spending levels.
To see whether this money is being spent wisely, Lin's team reviewed nine clinical trials that evaluated the effectiveness of gabapentin, pregabalin or topiramate (Topamax).
Considered as a whole, the clinical trials provided moderate to strong evidence that the drugs were not effective against back pain in either the short or long term, the researchers concluded.
The drugs also came with an increased risk of side effects, like drowsiness, dizziness and nausea.
Lin said there's no real reason to have thought anticonvulsants would help low back pain that doesn't involve nerve pain.
But there was reason to believe they would help ease radiating leg pain caused by pinched nerves in the spine, since the drugs help in other nerve pain conditions, she said.
"For radiating leg pain, maybe the nerve pain involvement is not as strong as we believed — maybe it's due to other reasons," Lin suggested.
So, she said, people with lower back pain should stick to proven treatments — first and foremost, remedies such as exercise or physiotherapy that don't involve drugs.
If drugs are required, nonsteroidal anti-inflammatory drugs (NSAIDs) are recommended, though they also have risks and are not suitable for everyone, Lin noted.
"The most important thing is to know that the pain will ease with time, and to stay active and avoid bed rest," she advised.
According to Fischer, researchers are still considering anticonvulsants for other uses involving spine pain.
Some studies have shown that a cocktail of anticonvulsants and NSAIDs before surgery can reduce the amount of narcotics patients need afterward, Fischer said.
"From that perspective, there still might be a role for these medications in spine surgery. But for chronic back and leg pain there have been multiple studies that really don't show this effect has borne out as we had hoped," Fischer said.
The new study was published July 3 in the CMAJ (Canadian Medical Association Journal).
More information
The U.S. National Institutes of Health has more about back pain.
Posted: July 2018
Source: Read Full Article