Detroit schools shut off water over high levels of lead, copper
Superintendent Nikolai Vitti said he had no information on whether students should fear short-term or long-term damage from previous use, but that he would release any that he gets.
(Fox 2 Detroit)
The city of Detroit has shut off drinking water in all public schools after officials found high levels of lead or copper in samples from 16 out of 24 schools tested.
While the superintendent said the move was "out of an abundance of caution" before school starts next week, officials believe old fixtures and aging infrastructure, not the water source, is to blame. Eighteen other schools had already been using bottled water due to quality issues.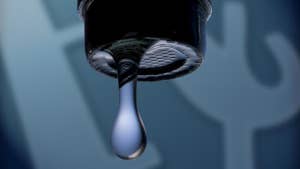 Newark officials insist city water is safe to drink
"Although we have no evidence that there are elevated levels of copper or lead in our other schools where we are awaiting test results, out of an abundance of caution and concern for the safety of our students and employees, I am turning off all drinking water in our schools until a deeper and broader analysis can be conducted to determine the long-term solutions for all schools," Nikolai Vitti, superintendent of Detroit Public Schools Community District, said in a statement on Wednesday.
High levels of lead in tap water can cause adverse health effects if it enters the blood stream. According to the Centers for Disease Control and Prevention (CDC), children and pregnant women are the most vulnerable to the effects of lead exposure.
Even low levels of lead in children affect IQ, ability to pay attention and academic achievement. It can also impact physical development or in severe cases be fatal, while high levels of copper can cause vomiting, stomach cramps, or even kidney and liver failure. According to the CDC, the effects cannot be reversed.
The district has more than 100 buildings and serves more than 40,000 students. It operates separately from City Hall, but Vitti said that he's working with Mayor Mike Duggan to address the issues. It was Vitti's decision, not a federal or state mandate, to test the water, and then shut it off districtwide.
He told the Detroit Free Press he will be creating a task force to determine the cause and find a solution.
"I haven't made this decision based on what happened on the Flint situation," Vitti told Fox 2 Detroit. "I'm making this decision because I feel like it's the best decision for children."
Concerned parents told the news outlet that more should have been done in the past to prevent the situation from escalating, which Vitti agreed with.
"What's most troubling is that it has taken this long to have a broader conversation about the quality of infrastructure in our schools," he said.
The Great Lakes Water Authority, the agency that provides water to the schools, released a statement assuring the public that water in their homes was safe to drink. The agency will also be providing bottled water to the district. A district spokesman said the water will not be turned back on until "we find a solution for all schools."
The Associated Press contributed to this report.
Source: Read Full Article